Welcome
Welcome to Lake Wilderness Arboretum's website! We're grateful for your visit and thank you for your support! The new LakeWildernessArboretum.org is a work in progress, so visit often for updates!
 
FREE TOURS START SATURDAY, APRIL 18
Lake Wilderness Arboretum docents invite you to experience the beauty of acres of plants coming alive during the warm spring weather, blooming amid the quiet backdrop of 26 acres of native forest.
Learn about plants that are native to our area as well as rare and exotic collections thriving in our gardens
Go back in time to picture how Lake Wilderness Park, the Lodge and the Arboretum progressed from a lumber mill with train tracks to a resort with an airplane landing strip to a park in the heart of the City of Maple Valley that can be enjoyed by all ages.
The Arboretum's docent program is led by longtime volunteer Cindy Ostermann, who is planning a rich and robust tour season for the Lake Wilderness Arboretum Foundation's 50th Anniversary.
"The educational opportunities that the Arboretum offers to its visitors and volunteers are huge," Cindy says. "One way the community can learn more about our gardens as well as sound gardening practices is to join one of our free public docent tours."
Tours start at the gazebo at 10 a.m. on the third Saturday of each month from April to October. Posted signs direct you to parking and the gazebo.
"Hope to see you at our April 18th tour!"
Click here to visit our Docent Tours page for more information. To schedule a special group tour, email tours@lakewildernessarboretum.org.
2015 NW WASHINGTON REGIONAL ENVIROTHON APRIL 30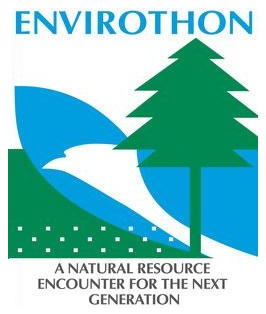 Hosted by the King Conservation District, Lake Wilderness Arboretum and the City of Maple Valley, the 2015 northwest regional competition of the Washington State Envirothon takes place Thursday, April 30 from 6:30 a.m. to 3:30 p.m. at Lake Wilderness Park. Arboretum volunteers will set up competition stations at the Lodge and the Arboretum.
Washington, D.C.-based NCF-Envirothon is North America's leading environmental education program that engages an estimated 500,000 high school students throughout the United States and Canada. The annual competition is the highlight of the program, where winning teams from participating States and Canadian provinces compete for recognition and scholarships by demonstrating their hands-on knowledge of environmental science and their problem-solving skill in natural resource management. Testing is centered on four universal categories – aquatic ecology, forestry, soils and land use, and wildlife – as well as one current environmental issue – 2015's focus is on urban and community forestry.
The mission of the Envirothon is to develop knowledgeable, skilled and dedicated citizens who have an understanding of natural resources and are willing and prepared to work towards achieving and maintaining a balance between the quality of life and the quality of the environment.
"Through this competition, students are motivated to learn about real-world problems and solutions," says Kristen Reichardt, Education Program Coordinator for the King Conservation District. "Today's Envirothon participants will become tomorrow's leaders in stewarding Washington State's natural resources."
It All Starts at Lake Wilderness Park!
Winners from the northwest regional as well as from all other participating counties move on to the State event May 27 and 28, where the winning team will represent Washington at the national NCF Envirothon in Missouri starting July 27.
To learn more about the Envirothon, contact Kristen by email at kristen.reichardt@kingcd.org or call (425) 282-1927; log on to the King Conservation District website: http://kingcd.org/pro_env.htm, the Washington State Envirothon website: http://www.waenvirothon.org/; or the national Envirothon website: http://www.envirothon.org/
VENDORS WANTED FOR 2015 SPRING PLANT SALE MAY 8-9
The Lake Wilderness Arboretum Foundation is looking for vendors interested in exhibiting at the 44th Annual Spring Plant Sale, which benefits Lake Wilderness Arboretum.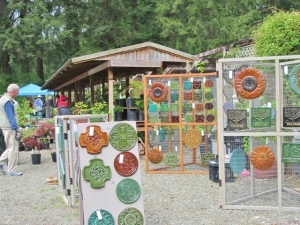 The Spring Plant Sale traditionally takes place each year on Mother's Day Weekend. This year's dates are Friday, May 8 and Saturday, May 9 and the Arboretum is "Celebrating 50 Years of Volunteerism." Always a popular event with the community, our Spring Plant Sale features a variety of native and specialty plants, garden accessories and crafts for sale, plus free parking.
Gardeners can learn more about plants and what to purchase with help from Arboretum staff and volunteers from the Master Gardeners organization. Docents give free tours of the Arboretum gardens throughout the day. The event is also an opportunity to meet Board members and learn more about other volunteer opportunities available.
Interested vendors can download the vendor application or contact event coordinator Colby Collier by email at info@lakewildernessarboretum.org. Applications can be mailed to the LWAF, PO Box 72, Maple Valley, WA 98038, Att: Colby Collier and must be received by April 27, 2015.
FRED MEYER COMMUNITY REWARDS
You can support Lake Wilderness Arboretum just by shopping at Fred Meyer with your Rewards Card!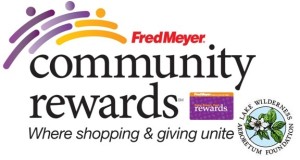 This year, Fred Meyer is donating $2.5 million to non-profits all over the Northwest, including those in Washington State, through a unique Community Rewards program that lets Fred Meyer customers choose which organizations will benefit from the giving. You can join the program online at www.FredMeyer.com/CommunityRewards and linking your Fred Meyer Rewards Card to the Lake Wilderness Arboretum Foundation (search for us by name or by our non-profit number, which is 86949). Every time you shop using your Rewards Card, you not only continue to earn Rewards Points and Fuel Points and Rebates, you are helping the Lake Wilderness Arboretum Foundation earn a donation! If you do not have a Fred Meyer Rewards Card, ask for one at the Customer Service desk of any Fred Meyer store.
ONLINE SHOPPING THAT BENEFITS LAKE WILDERNESS ARBORETUM
Consider using this link we've provided when shopping online. You get the same products and prices you do from Amazon.com, plus -by using this link, Lake Wilderness Arboretum receives a small donation on every purchase! Simply click on the graphic to access the Arboretum's special shopping page at AmazonSmile -and thanks for supporting Lake Wilderness Arboretum!