Welcome
Welcome to Lake Wilderness Arboretum's website! We're grateful for your visit and thank you for your support! The new LakeWildernessArboretum.org is a work in progress, so visit often for updates!
 
VENDORS WANTED FOR 2015 SPRING PLANT SALE
The Lake Wilderness Arboretum Foundation is looking for vendors interested in exhibiting at the 44th Annual Spring Plant Sale, which benefits Lake Wilderness Arboretum.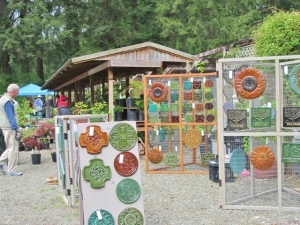 The Spring Plant Sale traditionally takes place each year on Mother's Day Weekend. This year's dates are Friday, May 8 and Saturday, May 9 and the Arboretum is "Celebrating 50 Years of Volunteerism." Always a popular event with the community, our Spring Plant Sale features a variety of native and specialty plants, garden accessories and crafts for sale, plus free parking.
Gardeners can learn more about plants and what to purchase with help from Arboretum staff and volunteers from the Master Gardeners organization. Docents give free tours of the Arboretum gardens throughout the day. The event is also an opportunity to meet Board members and learn more about other volunteer opportunities available.
Interested vendors can download the vendor application or contact event coordinator Colby Collier by email at info@lakewildernessarboretum.org. Applications can be mailed to the LWAF, PO Box 72, Maple Valley, WA 98038, Att: Colby Collier and must be received by April 27, 2015.
DOCENT TRAINING
- Cindy Ostermann, Docent Co-Chairperson
It's Lake Wilderness Arboretum Foundation's 50th anniversary – a celebration that started with a small group of local residents establishing a nonprofit dedicated to finding a place in south King County to establish an arboretum. In an initial partnership with King County Parks and Recreation and later with the City of Maple Valley, volunteers took the lead in establishing the gardens and collections, trail access to 26 acres of preserved native forest, and the nursery area that is now known as Lake Wilderness Arboretum.  Since its establishment in Maple Valley, Foundation volunteers have also taken on a major role in the maintenance of these 42 acres.
Pay it forward: Volunteer to spend some time to be a part of the Foundation's efforts to enhance its programs and Lake Wilderness Arboretum for the next 50 years.
The educational opportunities that Lake Wilderness Arboretum offers to its visitors and volunteers are huge. One way to pay it forward and to learn more about the Arboretum, its gardens and sound gardening practices is to join the Lake Wilderness Arboretum docent group.
Docent training continues with meetings/training scheduled on the first and third Thursdays of February through April and on the third Thursday only from May through October. Meetings begin at 12:30 p.m. in the Arboretum's Nursery. Volunteers spend approximately three to six hours per month for training, tours and presentations. You don't need to be an expert already; you will learn from our program and established docents.
For more information on our docent program or Lake Wilderness Arboretum, please contact the Arboretum at info@lakewildernessarboretum.
FRED MEYER COMMUNITY REWARDS
You can support Lake Wilderness Arboretum just by shopping at Fred Meyer with your Rewards Card!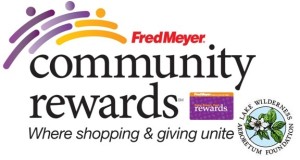 This year, Fred Meyer is donating $2.5 million to non-profits all over the Northwest, including those in Washington State, through a unique Community Rewards program that lets Fred Meyer customers choose which organizations will benefit from the giving. You can join the program online at www.FredMeyer.com/CommunityRewards and linking your Fred Meyer Rewards Card to the Lake Wilderness Arboretum Foundation (search for us by name or by our non-profit number, which is 86949). Every time you shop using your Rewards Card, you not only continue to earn Rewards Points and Fuel Points and Rebates, you are helping the Lake Wilderness Arboretum Foundation earn a donation! If you do not have a Fred Meyer Rewards Card, ask for one at the Customer Service desk of any Fred Meyer store.
ONLINE SHOPPING THAT BENEFITS LAKE WILDERNESS ARBORETUM
Consider using this link we've provided when shopping online. You get the same products and prices you do from Amazon.com, plus -by using this link, Lake Wilderness Arboretum receives a small donation on every purchase! Simply click on the graphic to access the Arboretum's special shopping page at AmazonSmile -and thanks for supporting Lake Wilderness Arboretum!