Welcome
Welcome to Lake Wilderness Arboretum's new website! We're grateful for your visit and thank you for your support! The new LakeWildernessArboretum.org is a work in progress, so visit often for updates!

You can support Lake Wilderness Arboretum just by shopping at Fred Meyer with your Rewards Card!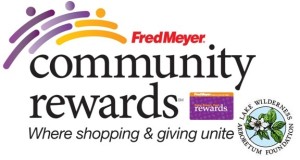 This year, Fred Meyer is donating $2.5 million to non-profits all over the Northwest, including those in Washington State, through a unique Community Rewards program that lets Fred Meyer customers choose which organizations will benefit from the giving.
You can join the program online at www.FredMeyer.com/CommunityRewards and linking your Fred Meyer Rewards Card to the Lake Wilderness Arboretum Foundation (search for us by name or by our non-profit number, which is 86949). Every time you shop using your Rewards Card, you not only continue to earn Rewards Points and Fuel Points and Rebates, you are helping the Lake Wilderness Arboretum Foundation earn a donation!
If you do not have a Fred Meyer Rewards Card, ask for one at the Customer Service desk of any Fred Meyer store.
Find out about other ways you can support Lake Wilderness Arboretum just by shopping – just continue reading this page to learn how!
The 2014 Student Art Contest Winners
"Secret Garden2" by Caitlin Hughes, Grade 9
Caitlin's inspiration- "Going on a field trip when I was in 7th grade and walking through a path engulfed with flowers. It was breathtaking and to make it better, there was a cute little pond with fish."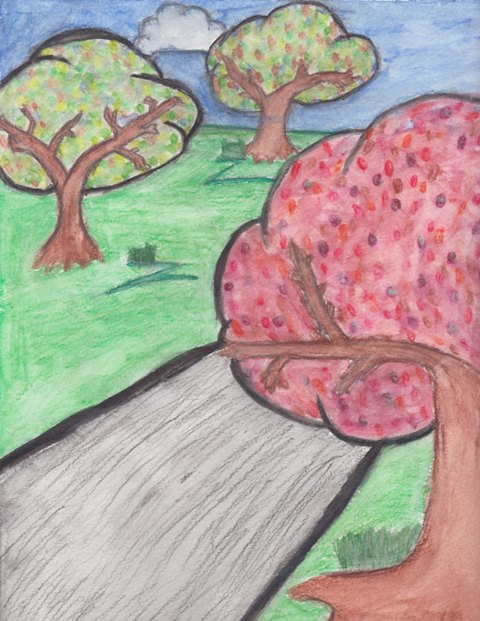 "The Endless Beauty" by Emma Rochleau, Grade 7
Emma's inspiration- "I named my artwork 'The Endless Beauty' because when I go to the Arboretum, I walk along the paths and I see an endless variety of flowers, plants, and trees of all shapes and sizes. The paths seem endless. While you're strolling through, it's a beautiful sight."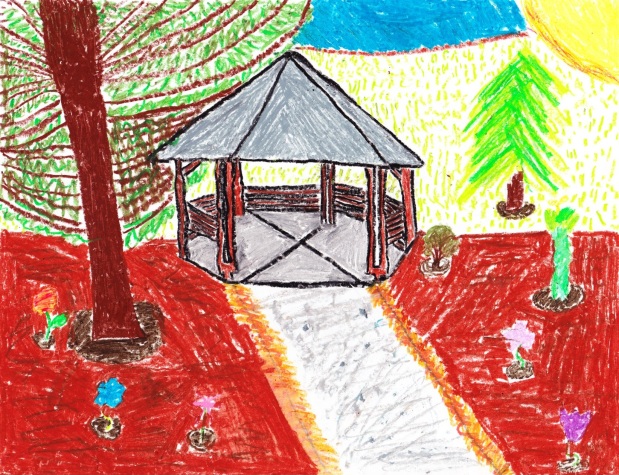 "Gazebo" by McKenna Miner, Grade 4
McKenna's inspiration- "When I think of the Arboretum, the gazebo is the first thing that comes to mind."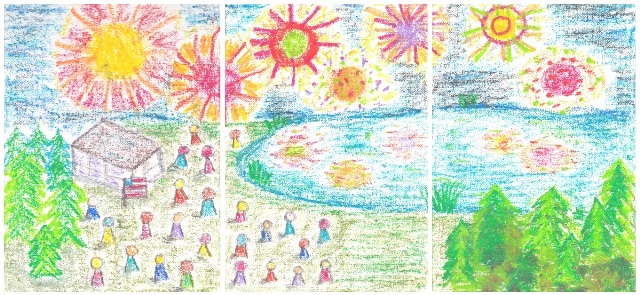 "Boom! Boom!" by Phoebe Chien, Grade 4 (triptych-style original)
Phoebe's inspiration- "July 4th fireworks, viewed from the hiking trail."
Thanks to all who entered the 2014 Student Art Contest ~ Keep creating!


The Annual Spring Plant Sale
Mother's Day Weekend!
Friday May 9, 10 a.m. to 6 p.m.
Saturday May 10, 10 a.m. to 4 p.m.
Shopping online this year?
Consider using this link we've provided when shopping online. You get the same products and prices you do from Amazon.com, plus -by using this link, Lake Wilderness Arboretum receives a small donation on every purchase! Simply click on the graphic to access the Arboretum's special shopping page at AmazonSmile -and thanks for supporting Lake Wilderness Arboretum!