FRED MEYER COMMUNITY REWARDS
You can support Lake Wilderness Arboretum just by shopping at Fred Meyer with your Rewards Card!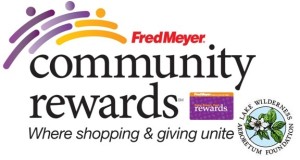 This year, Fred Meyer is donating $2.5 million to non-profits all over the Northwest, including those in Washington State, through a unique Community Rewards program that lets Fred Meyer customers choose which organizations will benefit from the giving. You can join the program online at www.FredMeyer.com/CommunityRewards and linking your Fred Meyer Rewards Card to the Lake Wilderness Arboretum Foundation (search for us by name or by our non-profit number, which is 86949). Every time you shop using your Rewards Card, you not only continue to earn Rewards Points and Fuel Points and Rebates, you are helping the Lake Wilderness Arboretum Foundation earn a donation! If you do not have a Fred Meyer Rewards Card, ask for one at the Customer Service desk of any Fred Meyer store.
ONLINE SHOPPING THAT BENEFITS LAKE WILDERNESS ARBORETUM