Join the many volunteers that have developed and maintained the Lake Wilderness Arboretum for over 50 years. Their generous support plays a crucial role in the success of the Arboretum. There are many opportunities ranging from digging in the dirt, helping with special events, participating in educational programs to strategic planning.  Whatever your passion, we can use your interest and skill.
If you would like to know more, fill out this simple form.
Volunteer Opportunities
Join a garden work party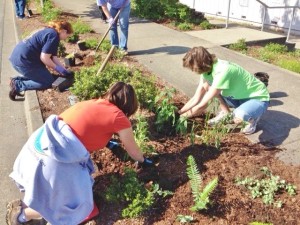 Volunteer days are held every Wednesday and Thursday, 9am to noon.
Additional work parties are held on select Saturdays throughout the year from 9am to noon. Check our
Facebook page for dates and sign-ups.
Show up on the day that works for you
A volunteer waiver form will need to be completed. Youth under 18 will need their waiver form signed by a parent or guardian. The form can be filled out at your first visit or download the form, fill out at home and bring with you.
Minimum age to volunteer (15+ w/out adult, younger ages welcome with an adult)
Meet inside the nursery at the Arboretum office.
The Arboretum will provide tools, please bring your own gloves.
Plan a volunteer event for your group
We would love to host your group
To arrange, please fill out the Large Group Visit Form under the "Visit" tab
Join Maple Valley's Make A Difference Day – a community volunteer day
Every October, residents of Maple Valley and the surrounding area come out to volunteer at various projects around the City. The Arboretum hosts several projects and loves to see all the helping hands. Sign up is organized by the Make A Difference Day committee.
Join the Lake Wilderness Arboretum Foundation Board
The LWAF board helps drive the strategy and direction of the Arboretum, as well as fundraise through events in an effort to build a more educational and enjoyable Arboretum experience.
For more information, contact: info@lakewildernessarboretum.org
Join a Foundation committee
Almost everything that happens at the Arboretum, happens because of the efforts of a volunteer. Bring your skills and time to the Arboretum and help us grow and develop outside the garden. The following is a list of committees and some of the projects they work on. Let us know what sounds interesting to you by contacting us at info@lakewildernessarboretum.org.
Membership & PR: recruiting and retaining Arboretum members, newsletters,
Education: Childrens programs, adult programs, docent
Special Events: Hellebore Tea, Plant Sale
Budget & Finance